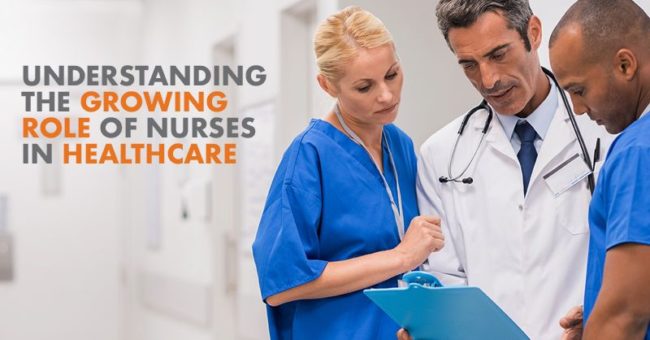 At around 3 million strong, nurses are the backbone of the U.S. healthcare industry, as well as its largest profession. Consistently ranked the most trusted profession in America year after year, nurses play an increasingly large role not just in providing care but in the administrative side of healthcare.
Today, we will be discussing the role of nursing — how it has changed over time and what it is like now — to answer the question, "Why are nurses important in healthcare?"
The Evolution of Nursing as a Profession
Believe it or not, nurses have been around for nearly two millennia, albeit serving in a much different capacity than they do today. Typically, nurses of long ago lived and worked in convents and early church-run hospitals, providing care that was primitive at best, often in squalid conditions. That all began to change in the 1800s, as prominent figures like Florence Nightingale began to lobby for better conditions and training. Having seen firsthand during the Crimean War that the majority of those who died did so not from wounds sustained in battle but from infections stemming from squalid conditions, Nightingale knew advancing the nursing profession was critical to improving healthcare.
However, as revolutionary as her work and subsequent advocacy was — she spoke on the issue to anyone who would listen, taking her message as high as the Queen of England — it would still be another 100 years or so before nursing came to resemble the profession we know today. During the early 20th century, much of the nursing workforce received on-the-job training in hospitals, serving in apprentice-like roles for what was often low pay, though dedicated schools like The Tabernacle Infirmary Training School for Christian Nurses in Atlanta, Georgia, began to appear. In time, the school became the Georgia Baptist College of Nursing and eventually part of prestigious Mercer University.
In the intervening years, both the role of nurses and the way they are educated has changed considerably, with hospital diploma programs slowly falling out of favor as Bachelor of Science in Nursing (BSN) degree and Associate's Degree in Nursing (ADN) programs became the standard. With this push for higher educational standards came greater organization as a profession (think groups like the American Nurses Association and American Association of Colleges of Nursing), as well as a number of advanced nursing professions, such as nurse practitioner and nurse anesthetist, requiring master's and even doctorate degrees.
Most recently, the Institute of Medicine has called on hospitals to push for a nursing workforce that is 80% BSN-educated by 2020, and while it is unlikely this lofty goal will be met in the next year, the demands of an increasingly complex healthcare industry make it inevitable — as does the growing need for nurses nationwide. To meet these demands, many top universities, like Mercer, have started to offer Accelerated BSN programs to help career changers with non-nursing bachelor's degree earn quality nursing degrees in significantly less time than it would take to complete a traditional, four-year program.
The Role of Nurses in Modern Healthcare
Nurses have long enjoyed the support of the general public. Professional respect within the medical community, on the other hand, was hard-won through years of lobbying, organizing, and most importantly, advancing the profession academically. Whereas nurses 70 years ago were often viewed as little more than order-takers for doctors — responsible for delivering food and medications, changing beds, and bathing patients — nurses today have much greater responsibilities and autonomy, and enjoy an increasingly collaborative relationship with physicians and other members of the healthcare team. For good reason, too … it is no secret that patients trust nurses more than they trust doctors (or any profession, for that matter), making them a vital link between doctor and patient.
To understand why nurses are so important in healthcare today, we need to look at what they do, from the relationships they foster with patients to the ways in which they work with other practitioners.
Nurses Spend More Time with Patients
Think back to a recent doctor's appointment. After you checked in at the front desk, chances are a nurse was the first person you saw. Between asking about your health and checking your vitals, he or she probably made what seemed like small talk. That small talk, however, was not just to put you at ease or avoid awkward silence; skilled nurses know that taking the time to get to know patients can be extremely helpful in uncovering important health information — information patients might not offer up otherwise. Then, after the doctor saw you, the nurse likely returned to talk through any medications the doctor prescribed and to ask if you had any additional questions before helping you check out.
The time nurses spend with patients in the hospital is even greater. In a recent study of the time intensive care patients spent with at least one healthcare practitioner, around 86 percent of that time was with nurses, compared to just 13 percent with physicians. In the case of overnight hospital stays, the time spent with nurses was even greater. Nurses are often described as serving on the front lines of healthcare — the first to notice when a patient's condition has changed or to spring into action in a critical situation — and this research certainly makes that case.
Nurses as Patient Advocates
The time nurses spend with patients also provides them with unique insights into their patients' wants and needs, behaviors, health habits, and concerns, making them important advocates in their care. In fact, the American Nurses Association calls advocacy a "pillar of nursing."
The advocacy role of a nurse can take many forms, too. For example, in talking with a patient's family member, a nurse might uncover an important detail that was not reflected in the patient's charts and relay this to the healthcare team. Or a nurse might have concerns that a medication is not working as expected and call the pharmacist to talk through it. Patient advocacy might also mean helping coordinate a patient's care with another provider's office or making sure that a patient has provided informed consent prior to undergoing a procedure.
Education as a Critical Function of Nursing
As any doctor or nurse knows, one persistent issue plaguing the U.S. healthcare industry is low health literacy. Put quite simply, health literacy is one's ability to understand basic health information to make informed decisions. Part of what makes doctors so good at what they do — their deep scientific knowledge of the field of medicine — can hinder them when it comes to talking to patients in terms a layperson can understand. Not to mention, some patients feel very intimidated by the medical community and fail to ask the right questions.
In their work, nurses devote a lot their time and energy to educating patients, whether that means helping them understand a treatment or procedure, medications and side effects, the importance of proper nutrition and good hygiene (of particular concern for patients who are immunocompromised), or how a clinic operates (in the case of ongoing treatment).
Nurses and their Role in Monitoring Patients' Health
There can be no mention of the role of nurses in today's complex healthcare environment without discussing the monitoring of patients' care and keeping of records. Previously we discussed nurses' role on the front lines of care. While physicians and other members of the care team do check on patients from time to time, it is nurses who monitor their condition day in and day out.
In assessing patients, nurses chart everything from patients' vital signs and reasons for visiting to their likelihood of falling (referred to as a "fall risk score") and current medications. They then summarize these assessments, updating patients' permanent medical records and applying corresponding charges (a function of billing). In fact, nurses spend a fair amount of time updating records and communicating pertinent information to the larger care team.
Nurses Today Have Greater Autonomy Than You Might Think
Reading about the nursing profession, no doubt you have heard that nurses today have a greater degree of autonomy than in the past, but what is meant by this? Especially in the case of hospital stays, nurses are often the first to uncover a problem, and while notifying the attending physician is standard protocol, there are times when nurses must act immediately to stabilize the patient. In other cases, as part of the order set, a physician may spell out instances when a nurse can act without seeking permission from the doctor. (For example, if a patient's magnesium levels drop to a specified level, the nurse may give the patient magnesium without consulting the doctor.)
This autonomy requires nurses to have a thorough understanding of their scope of practice, as well as collaborative, trusting relationships with physicians and other key members of the care team. It is also why so many hospitals choose only to hire nurses with a Bachelor of Science in Nursing (BSN) degree.
Want to Join the Ranks of the Most Trusted Professionals in America?
If you already hold a non-nursing bachelor's degree, a rewarding career in nursing could be closer than you think, thanks to Mercer University's Accelerated BSN (ABSN) track in Atlanta, Georgia. Our second-degree nursing program makes it possible to earn your BSN degree in as few as 12 months through a combination of online coursework, hands-on labs at our high-tech learning site, and clinical rotations at top local healthcare facilities. Give us a call today to find out whether Mercer ABSN is right for you.