What You'll Learn in Nursing Simulation Labs
Nursing simulation labs are one of the most important elements of your nursing education. During these labs you will learn how to apply nursing skills and techniques within mock care scenarios. With help from nursing simulation labs, you can prepare to become a practice-ready nurse.
In today's healthcare environment, nurses are taking on more roles and responsibilities than ever before. Handling patient care scenarios, administering treatment, recording patient status, coordinating the patient care team, and beyond all fall under their purview. Because of the demands of the modern clinical environment, nurses must have well-developed skills and confidence to operate in a clinical environment right from the start of their career.
This is where the nursing skills and simulation labs offered through Mercer University's Second Degree Accelerated Bachelor of Science in Nursing (ABSN) track come into play. The Accelerated BSN track has a hybrid, three-part curriculum including online coursework, labs, and clinical rotations. Labs are an essential element of a nursing education that develops the skills and techniques that students will use daily in their nursing careers.
But what is a simulation lab, and how do nursing simulation labs work within Mercer's Accelerated BSN track? In this blog we'll explore what nursing labs are, what nursing students learn from them, and how they effectively develop students into practice-ready nurses.
What Are Nursing Labs?
Nursing labs are the hands-on portion of a nursing curriculum. Nursing theory coursework often covers explanations of how certain nursing skills and techniques are performed, but nursing labs give students the opportunity to put these into practice. Learning under instructor supervision in controlled, mock clinical settings is the element of a nursing curriculum that prepares students to apply their skills in the real-world environment of clinical rotations.
In an ABSN track like Mercer's, nursing labs are key to preparing for the real-life scenarios of clinicals, which you'll experience much more rapidly in the ABSN track than in a traditional nursing degree track. Located at our ABSN Learning Site, Mercer nursing labs create a mock clinical environment with real hospital-grade equipment where students can gain the skills and knowledge they need to enter clinical practice with confidence.
How Do Nursing Simulation Labs Work?
Nursing simulation labs are based around the concept of immersive learning––applying learned nursing skills and techniques to mock patient care situations. These scenarios can be wide-ranging in scope, requiring collaboration with fellow students and communication with instructors during each lab in order to succeed.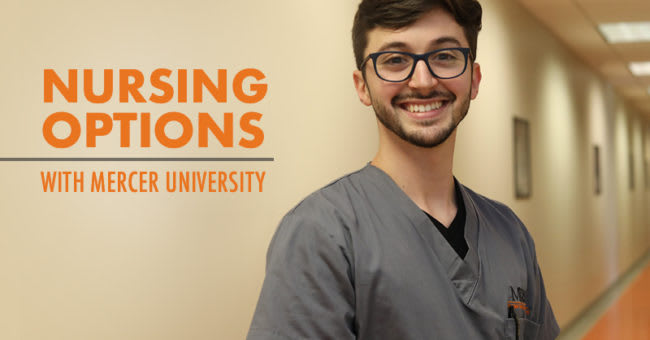 Nursing skills and simulation labs are only one part of your nursing education. See how to earn a BSN with Mercer ABSN.
Presentation and Briefing of Diverse Care Scenarios
The first element of any nursing simulation lab is the presentation and briefing of the scenario that students will face. Oftentimes, these simulated scenarios have the capacity to rapidly change––thus impacting the necessary treatment that students will apply. For example, a scenario could begin with identifying an allergic reaction then move on to treatment, or another could go from diagnosing lung sounds to responding to a sudden cardiac arrest.
Applying Nursing Skills to Simulated Scenarios
These simulated scenarios are designed to push students to exhibit the best understanding of nursing skills and techniques possible. Situations are able to shift in their parameters while requiring students to think on their feet, and students experience a mock clinical setting that's as realistic as possible.
Students use the same equipment that they will encounter in clinical settings, and high-fidelity manikins are able to effectively mimic a wide variety of symptoms that students must respond to.
Rhegan Mitchell, a Mercer ABSN student, shared about her simulation lab experience, "It was nerve-racking in the beginning. But the more times that we did it throughout the track, the easier it got and the more comfortable we got. It was great because after that you go into a healthcare setting and experience working with real patients and speaking with them and their families."
Post-Lab Debriefs
After nursing simulation labs, students participate in a debrief session with their fellow cohort members and instructors. During this time, students have an opportunity to examine their actions and identify what they did well, what went wrong, and what areas could be improved. Especially in preparing to apply skills to real clinical settings, debrief sessions have much to offer in terms of correcting behavior and stopping incorrect techniques before they are applied to real patients.
How Do Nursing Skills Labs Augment Simulation Labs?
While nursing simulation labs apply skills within controlled scenarios, nursing skills labs impart the base level of hands-on knowledge. "Skills lab is where you have most of your hands-on learning," says Rhegan. "In the beginning it's a lot of the basic things that you should know as a nurse like taking vitals and doing assessments. Then you also learn how to do injections and infusions and those kinds of nursing skills that you will need to work in a hospital or other facility."
Ready to Earn Your BSN Degree?
With a curriculum that delivers high-quality student experiences through nursing simulation labs, Mercer's ABSN track develops practice-ready nurses equipped to deliver exceptional patient care.
If a career in nursing sounds like it might be right for you, speak with an enrollment counselor today and take the first step toward fulfilling the new calling of becoming a nurse.