How to Get a BSN and Succeed as a Nurse with Mercer University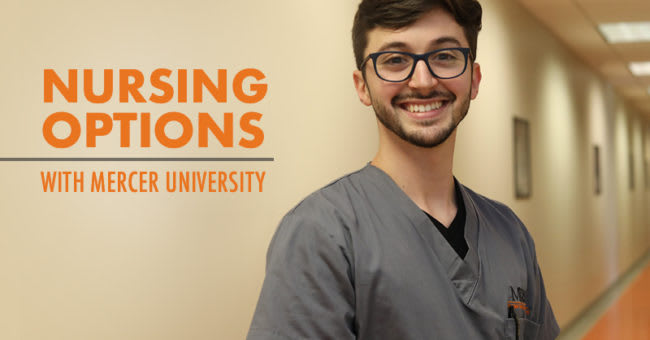 Nursing is an exciting, growing career field with an encouraging mix of flexibility, room for advancement, and median annual wages well above the average for all occupations. With an aging population and an increased need for nurses, there are projected to be 175,900 nursing career openings each year over the next decade while the field as a whole is projected to grow 9% by 2030, according to the U.S. Bureau of Labor Statistics.
However, while nursing is an exciting and lucrative career field, whether you have earned a Bachelor of Science in Nursing (BSN) degree can boost your future professional mobility and earning potential. As the role of nurses continues to expand in the effort to meet patient needs, bachelor's degree-holding nurses are poised to become leaders with improved career prospects from employers.
If you ever wondered how to get a BSN degree and expand your nursing career options, Mercer University offers multiple paths tailored for students with different educational backgrounds and priorities to earn a BSN degree. Explore the BSN degree options Mercer offers, and learn how we can help you succeed as a registered nurse below.
Accelerated Bachelor of Science in Nursing Track
If you've already earned a non-nursing bachelor's degree, this track could be perfect for you. Our Accelerated Bachelor of Science in Nursing (ABSN) track is a 12-month program with three start dates per year — January, May, and August — targeted toward learners who have already earned a non-nursing bachelor's degree from a fully accredited institution and want to earn their BSN degree quickly from a leading university in nursing education.
Offered at Mercer's ABSN Learning Site in Atlanta, students will participate in a comprehensive learning model. Students engage in a mix of online coursework, hands-on skills and simulation labs, and clinical experience in healthcare settings throughout Metro Atlanta.
Learn more about how we administer our Accelerated BSN track, and how each element will prepare you to become a better nurse.
ABSN Track Requirements and Prerequisites
While there are several different routes to a nursing degree through Mercer University, our ABSN track could better fit your goals if you hold a non-nursing bachelor's degree and would prefer to graduate on a faster timeline. Before you begin as a Mercer University ABSN student, you will need to meet our admissions requirements and complete 30 credit hours of prerequisite courses. Because of the high nursing standards set by Mercer University and the accelerated nature of the program, you will need to demonstrate that you have the necessary foundation of knowledge to stay on-pace in the ABSN track.
Want to learn more about the prerequisites for Mercer ABSN's admissions process? Contact an enrollment counselor to chart your path and form an admissions plan.
Online Coursework
Over 12 months, you will learn the subject matter necessary to succeed as a nurse through online coursework. The online nature of Mercer's ABSN coursework allows you the freedom and flexibility to learn and study on your own time while still meeting deadlines. While online, this coursework has been built to accommodate visual, aural, tactile, and social learners, and your expert instructors stay in regular contact to address questions and ensure you are succeeding in your courses.
Nursing Labs
Hands-on learning is vital to understanding nursing skills and techniques and is necessary before you begin to gain clinical experience with real patients. Mercer University's onsite nursing skills and simulation labs allow you to practice under the watchful eye of expert instructors at our Atlanta-based ABSN Learning Site. Here you will engage with state-of-the-art equipment and learn in a collaborative setting along with your cohort. From learning in the moment to debriefing after sessions, you will come out of labs ready to administer care to real patients in a clinical setting.
Clinical Rotations
Clinical rotations at healthcare facilities located throughout Metro Atlanta allow ABSN students to gain real-world experience across a variety of specialties. Under the close supervision of expert clinical instructors, you will learn what it means to deliver world-class patient care while growing more confident in your abilities.
Additionally, your clinical rotations give you an opportunity to talk to the healthcare professionals you work with, make contacts as you prepare to begin your job search, and discover the nursing field specialties you are interested in pursuing. By the time you graduate with your BSN degree, you'll be ready to take on your new career.
Traditional Prelicensure BSN Track
The Mercer Traditional Prelicensure BSN Track is a two-year, four-semester program with three start dates per year, for students who do not have a nursing license but are looking to earn their degree and prepare to pass the NCLEX to become a registered nurse. While this track requires 60 credits and two years for program completion, students will need to complete 57 additional hours of general education credits prior to enrollment in the traditional Prelicensure BSN Track.
Mercer University's Georgia Baptist College of Nursing is the longest-established nursing program in the State of Georgia. Offered at our Metro Atlanta campus, it is one of the best places to earn a nursing education in Georgia and across the U.S. All in all, this time-tested track is perfect for many students. Students are best suited for the track if you have not earned a bachelor's degree and want a more "traditional" on-campus program experience.
RN-BSN Completion Track
Mercer University's RN-BSN Completion Track is a program of study for registered nurses with residence in Georgia who have graduated from an accredited associate degree or diploma nursing program, and who hold an unencumbered Georgia registered nurse license with the ability to complete clinical experiences in the State of Georgia.
Students in this track can choose from a three-semester sequence as a full-time student, or a five-semester sequence as a part-time student. After a mandatory one-day orientation at the beginning of their coursework, students complete all subsequent courses asynchronously online. Registered nurses who want to earn a BSN degree are the best fit for this program.
Nursing Career Options
Establishing a career in nursing is one of the smartest choices you can make for your future. With an ongoing nursing shortage, the odds of finding a lucrative and rewarding nursing position after earning your BSN are in your favor. After your experience during clinical rotations with different nursing specialties, you will have the tools to pursue a position that fits your personality and desired lifestyle. Some of the nursing career fields you can pursue include:
Public Health Nurse
Travel Nurse
Critical Care Nurse
Cardiovascular Nurse
Pediatric Nurse
Home Health Nurse
Health Coach
School Nurse
Corporate On-site Nurse
Legal Nurse Consultant
Community Center Clinical Nurse
Are You Ready to Earn Your BSN Degree?
As you can see, Mercer University's BSN degree tracks set a strong foundation for your nursing career. And with our Accelerated BSN track, the journey from wondering how to earn a BSN degree to working as an RN with a BSN degree could be as few as 12 months away. Speak with an enrollment counselor today to take the next step toward changing your career and your life.