Is It Possible to Become an RN in One Year?
It is possible to become an RN in one year with the help of Mercer University's Second Degree Accelerated Bachelor of Science in Nursing track. Students can complete an accelerated, comprehensive nursing curriculum in as few as 12 months, emerging as practice-ready nurses.
As news stories tout the life-changing work of nurses, growing demand for nurses, and respectable pay BSN-educated nurses can earn — it is not surprising there is so much interest in the nursing profession right now. This has many highly motivated career changers wondering how they can become an RN in one year.
While some articles may give the impression it is possible to become an RN in one year, the claim is nonetheless misleading. Mercer University offers a 12-month, Second Degree Accelerated Bachelor of Science in Nursing (ABSN) track designed to help you become a nurse sooner. This blog post will help to separate fact from fiction, so you have a better understanding of the fastest way to become a registered nurse, as well as the process you will have to follow.
Earning a BSN Degree is Not the Same as Becoming an RN
Chances are that when you hear someone talking about becoming an RN in one year, they are often referring to earning a BSN degree in one year. Earning a degree in this timeframe is in fact possible assuming you meet all of the prerequisite course requirements (more on that later). With Mercer University's Accelerated BSN track in Atlanta, Georgia, you can graduate ready to sit for the NCLEX in as few as 12 months.
Graduating from a reputable, accredited nursing track is only one step toward becoming an RN — albeit a significant part. In order to earn RN licensure, following graduation, you must pass the National Council Licensure Examination for RNs (or NCLEX-RN). Keep in mind that you will be given a test date within 30 days of scheduling your appointment; however, should you wish to have extra time to study, you may opt to take the test at a later date.
Depending on your state, you may be able to get your "unofficial" results within two business days of taking the NCLEX. However, be aware that it can take up to six weeks to receive your official results, which will also be sent directly to your state board of nursing. Upon earning a passing score, you will receive licensure.
So Can You Become an RN in One Year?
For those who are researching how to become an RN quickly, it might appear that a one-year timeline is achievable. However, while it is accurate to say that you can earn a nursing degree in a year, achieving licensure can take a few additional months.
Still, when you consider that students in traditional, campus-based BSN tracks spend up to four years in school prior to taking the NCLEX, or that even many accelerated nursing tracks take at least 16 months, earning a BSN degree in as few as 12 months is quite impressive.
How Prerequisites Influence the Time it Takes to Earn a BSN Degree
Another factor that could impact the time it takes to become an RN is completing prerequisites. While traditional BSN tracks include prerequisite coursework within the curriculum, Accelerated BSN tracks do not include these courses.
ABSN tracks allow students to earn their bachelor's degree in nursing sooner because they leverage your previous education — in the case of Mercer's ABSN, a previous non-nursing bachelor's degree. Because these prerequisites are foundational courses (for example, anatomy, statistics, pathophysiology) that many applicants have credit for from previous degrees, they are not built into the track's curriculum.
Applicants with a Bachelor of Science degree tend to fulfill more of the prerequisite requirements than do prospective students with a Bachelor of Arts degree. That is because many science degrees, such as biology, share the same foundational courses — nursing included.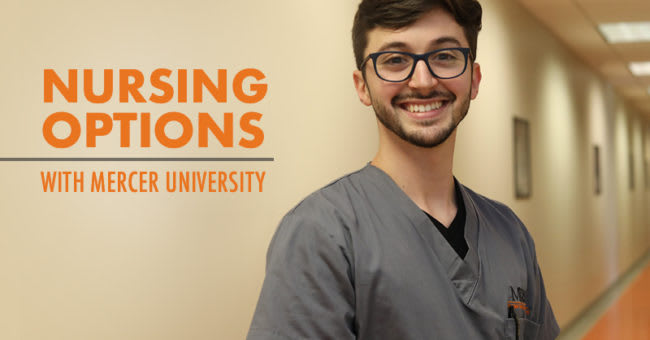 Discover more about how to get a BSN and succeed as a nurse through Mercer University's ABSN track.
Of course, there is one other consideration when it comes to prerequisites: when you earned your previous degree. Certain prerequisites courses play an especially important role in your understanding of nursing concepts. As a result, these courses must have been taken within the past five years in order to apply toward the prerequisite requirements.
Do not worry if you have not taken all of the prerequisites or if some are out of date. When you speak with a Mercer ABSN enrollment counselor, he or she can help you develop a plan for completing any outstanding prerequisites.
Earn Your BSN Degree in as Few as 12 Months with Mercer ABSN
If you are considering switching careers to nursing and already hold a non-nursing bachelor's degree, Mercer University's Accelerated BSN track could be your path to a life-changing career in nursing. To prepare you for this fast-paced and in-demand profession, our Atlanta-based second-degree nursing track features an academically rigorous blend of:
Online coursework designed to teach you the fundamentals of 21st-century nursing theory while affording you the flexibility to learn and study when and where it is convenient for you.
Hands-on skills and simulation labs set up to give you the skills, confidence, and clinical reasoning necessary to succeed in professional practice.
Clinical rotations specifically chosen to help familiarize you with a variety of healthcare settings and situations, all under the close supervision of an experienced clinical instructor.
Because you must pass the NCLEX-RN to practice as a registered nurse, Mercer ABSN features built-in test prep throughout the track. Every test you take during the track was written in the style of the NCLEX to help you prepare.
Ready to Make a Difference as a Mercer Nurse?
Give us a call at 844.347.2108 today, or fill out the form to have an enrollment counselor contact you, to find out if Mercer ABSN is right for you.