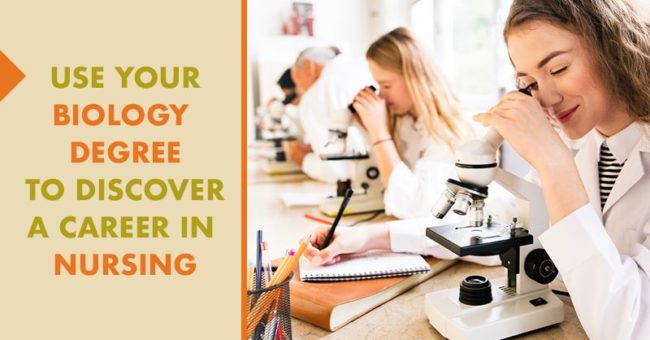 In a perfect world, we would all know exactly what we want to do in our careers. The reality, however, is that some of us change our minds … sometimes well into our careers.
Not only is this inconvenient; questioning your education and career path can stir feelings of regret and anxiety. However, there is a silver lining. Not only is it never too late to pursue a new career; that first degree might even help you in your new career.
This is especially the case with those seeking to make the transition from a bachelor's degree in biology to BSN degree. Thanks to accelerated nursing programs — such as the second-degree Accelerated Bachelor of Science in Nursing (ABSN) program offered by Mercer University in Atlanta, Georgia — it is possible to switch careers sooner than you might think.
Accelerate Your Path: Bachelor's Degree in Biology to BSN Degree
Having already spent four years earning one bachelor's degree, the last thing you want to do is draw out the process of going back to school and, subsequently, taking the National Council Licensure Examination (NCLEX), any longer than need be. That is what makes Accelerated BSN programs so valuable to career changers. Whether you have a degree in biology, business or what have you, these programs can offer a bachelor's degree in less time than a traditional program because they allow you to apply previous coursework toward prerequisite requirements.
However, it is not just by leveraging previous college coursework that an accelerated nursing program makes it possible to become a nurse sooner than a traditional, four-year program. Before we discuss how holding a biology degree puts you a step closer to becoming a nurse, it is important to understand how our ABSN program works.
How Accelerated BSN Programs Work
By requiring previous college experience — in the case of Mercer's 12-month ABSN program, a non-nursing bachelor's degree — accelerated nursing programs are able to offer a comprehensive nursing education in a significantly shorter timeframe because the curriculum consists exclusively of nursing-related coursework. This often includes a mix of online and in-person learning.
In our Accelerated BSN program, you will learn through a combination of:
Online coursework designed to give you flexibility in when and where you complete your nursing theory studies. This includes interactive activities, forum discussions of assigned readings, online review sessions, and more.
Skills and simulation labs, which provide life-like experience in a realistic-but-risk-free setting where you can learn from your mistakes under the guidance of experienced lab instructors. Rather than practice on real patients, you get comfortable with various nursing procedures and medical scenarios by practicing on high-tech medical manikins. Far from simple dummies, these simulators employ state-of-the-art technology to simulate complex processes and react to treatments.
Clinical rotations at top healthcare facilities in and around the Atlanta metropolitan area. Beginning your first semester, you will get to experience the nursing profession first-hand in small groups led by dedicated clinical instructors. Clinicals not only provide you critical hands-on experience, but they also allow you to learn about different areas of the nursing profession and network with working nurses and other healthcare providers.
Of course, you cannot begin working right after graduation. Earning registered nurse (RN) licensure is contingent on passing the NCLEX-RN. At Mercer University, NCLEX prep is built into our Accelerated BSN program, meaning that you will graduate well prepared to sit for the NCLEX.
Why Going from a Bachelor's Degree in Biology to BSN Makes Sense
For many biology degree holders, nursing is a logical career choice. Whether you pursued a biology degree as a step toward medical school, to become a researcher or for some other reason, the knowledge you gained will help you in school and your career. Not to mention the obvious: Nurses are in high demand across Georgia and the United States, and will continue to be for years to come.
A Biology Degree Meets Many of the Nursing Prerequisite Coursework Requirements
Some areas of study inherently better prepare you to make the transition to nursing than others. One of the great things about a biology degree is that, chances are, you will already have taken many of the math- and science-based courses required as nursing school prerequisites. However, even if you do not meet all of the prerequisite course requirements, rest assured that you can take them.
At Mercer University, our second-degree Accelerated BSN program enrollment counselors guide students through every step of the process, from their initial inquiry to application and enrollment. He or she will review your college transcripts carefully and advise you on any courses you will need to take.
It is not just in fulfilling ABSN prerequisites, though, that a biology degree gives future nurses an advantage.
A Degree in Biology Prepares You for Nursing School and the Nursing Profession
Nursing and biology may differ considerably, but some of the knowledge a biology degree provides can be quite helpful in nursing school and as a nurse. That is because biology majors learn all about living organisms and how they function and are impacted by their environment, disease processes, and even how immune systems function. This knowledge will help you to better understand the concepts you are learning in nursing school, as well as the work you do as a nurse and the treatments patients are prescribed.
Ready to Use Your Biology Degree to Become a Nurse?
Maybe you pursued a biology degree with the intention of going to medical school or of pursuing a career in medical research, but now you want to become a nurse. Whatever your reasons, rather than wishing you had done it all differently, you can transition from a bachelor's degree in biology to BSN degree in as few as 12 months through our Accelerated BSN program.
To find out if Mercer ABSN is right for you, give us a call today, or fill out the form to have an enrollment counselor reach out to you later.