Online vs Traditional Education in Nursing: Find the Right Fit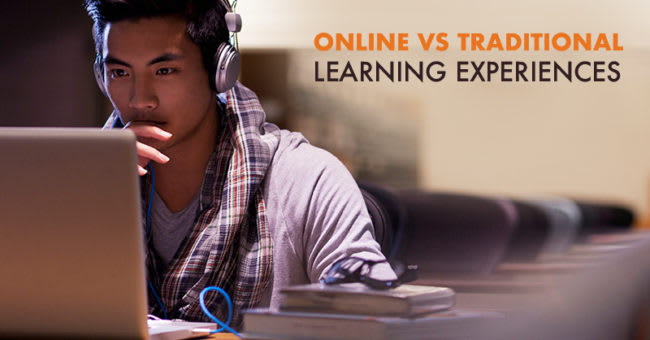 Among the many changes brought about by the pandemic we have all experienced, more and more students are interested in online education as a means to earn their degree. While the pandemic has certainly accelerated this trend, it is by no means new. In fact, the number of students enrolled in online courses nationwide had been steadily growing year on year even before this rapid spike. With so much interest and popularity centered around online learning, though, many students find themselves asking: what are the differences between an online vs traditional education, and how can they be combined for a more well-rounded learning experience?
As an institution with a long history of excellence in nursing education, Mercer University's Georgia Baptist College of Nursing's Second Degree Accelerated Bachelor of Science in Nursing (ABSN) track blends online coursework with hands-on labs and in-person clinical rotations. As Mercer ABSN students encounter both online and in-person elements in their education over the course of the 12-month track, they see firsthand the differences between the two. To see what makes each format distinct, let's compare online vs traditional in-person education in nursing and examine how they can enhance the learning experience by working in tandem.
Comparing Online vs Traditional Nursing Coursework
When a student thinks of coursework in nursing school, they might initially think of the traditional format that this coursework takes: learning in an in-person lecture, then completing coursework and handing it in at the next lecture. Advancements in online learning can make online nursing coursework comparable to in-person in the quality of learning experience that they deliver. Online learning modules are crafted to accommodate multiple learning styles, and all courses are still administered by highly experienced faculty centered near our ABSN track location. In fact, for some students the differences between online vs traditional coursework can even be a positive thing.
So, what are some of the differences between online and traditional nursing coursework?
Flexibility in Learning
The amount of flexibility students receive is one of the biggest differences between online and traditional coursework. When it comes to a traditional educational model, students are required to attend lectures at specified times to learn and complete assignments.
With online learning, however, students complete lectures and coursework on their own schedule. This means that as long as assignment deadlines are met, students can learn at the best time for them. Whether that means logging on early in the morning or later at night, flexibility in learning allows students to manage their personal and professional priorities while pursuing their nursing degree. Especially in an ABSN track like Mercer's, online learning offers a way to manage an accelerated curriculum in a productive manner.
Self-Motivation in Achieving Goals
While flexibility is a differentiator between online and traditional coursework, it's a double-edged sword. There is less structure when it comes to online coursework, because there is no scheduled time when students must attend lectures or begin working on assignments. Some students thrive within this environment and create their own schedule to get things done on their time. For students who thrive on structure, traditional coursework in-person coursework may be helpful. It all depends on the type of learner a student is.
Interacting with Instructors and Cohort Members
With traditional coursework, interacting with instructors and fellow cohort members is a given. Students attend in-person lectures and get the opportunity to ask questions and receive answers there. Online coursework is different in format, but not removed from the ability to connect with instructors and fellow cohort members. With Mercer's ABSN track, for instance, instructors are highly accessible and always ready to supply students with detailed, informative answers. Additionally, with virtual study groups and plenty of ways to stay connected, fellow cohort members can help one another no matter the type of learning experience.
Blended Learning for Nursing Students: the Best of Both Worlds
Although online coursework can be more convenient for many nursing students, a blended education that combines this online element with in-person labs and clinical rotations can shape them into highly capable nursing leaders. For the reasons mentioned above, online coursework offers a more independent, flexible model of learning that still provides a high-quality education. However, nursing as a calling is about working with patients, families, and fellow healthcare professionals. As such, Mercer's ABSN curriculum also includes hands-on, in-person elements: skills and simulation labs and nursing clinical rotations.
In-Person Skills and Simulation Labs
In-person skills and simulation labs, as well as clinical rotations, are meant to provide students with opportunities to apply their knowledge in hands-on settings. In skills and simulation labs, like the ones offered through Mercer's ABSN track, students practice administering skills in mock clinical settings. High-tech equipment and high-fidelity manikins provide an environment for instructors to give the best direction possible.
Nursing Clinical Rotations
In nursing clinical rotations, students gain invaluable experience working in real clinical settings at leading Atlanta Metro area healthcare facilities. This approach to learning means that for nursing students, comparing an online vs traditional education doesn't mean having to choose one over the other. Simply put, blended learning Simply put, blended learning can provide the flexibility needed to earn a BSN degree and begin a nursing career sooner.
Take the Next Step in Your Education
Now that you have a better understanding of the differences between an online vs traditional education and have seen how Mercer's ABSN track blends online and traditional in-person learning elements through our blended nursing curriculum, take the next step toward your future as a nurse.
In as few as 12 months, you could earn your degree and be ready to lead in the exciting and rewarding field of nursing. Contact us today to speak with an enrollment counselor and choose for yourself.