Prerequisites for nursing school cover multiple areas of study including anatomy, physiology, microbiology and more. Completing these is necessary to ensure students are ready to take on the intensive period of study necessary to earn a BSN degree on an accelerated timeline.
If nursing is your calling and you have a bachelor's degree in another field of study, you may be interested in earning your Bachelor of Science in Nursing (BSN) degree as soon as possible so you can begin your dream career sooner. Fortunately, you have options.
With Mercer University's Second Degree Accelerated BSN (ABSN) track, it is possible to earn your nursing degree in as few as 12 months. However, as with any accelerated nursing track, how soon you can start depends on your previous academic experience.
In this blog we will answer the question, "What are the prerequisites for nursing school?" and walk through how prerequisites help in the application process for our Atlanta-based accelerated nursing track as well as other nursing programs in general.
Why Are Prerequisites Important?
Joining the ranks of America's most trusted profession takes hard work and dedication, as well as a basic understanding of the underlying science behind nursing. This is why most accelerated nursing tracks require you to have taken prerequisite courses to be eligible for admission. Prerequisite courses include topics that will benefit you as a nurse such as anatomy, physiology, microbiology, statistics, and psychology, though they may also include school-specific courses.
At this point, you may be wondering why prerequisite courses are not part of Mercer's ABSN curriculum. Depending on your previous degree, you may already have taken some or all the prerequisites for nursing school, which is why schools seldom include them as a part of their ABSN track curriculum.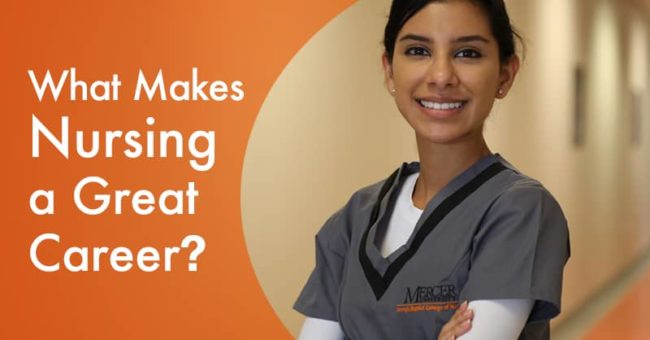 See some of the top reasons why you should consider making nursing into your calling and career.
What Prerequisites Do I Need for Nursing School?
Depending on which nursing track you enroll in, you will need to complete a number of different prerequisites. In general, there are many common subjects that provide a foundational background to the material you will need to know as a nurse. Some of the most common prerequisite fields of study include:
Anatomy & Physiology – The study of the functions and structure of the human body, as well as basic terminology.
Biology – The study of life, including cell structures, genetics, microorganisms, and the diseases caused by microorganisms.
Psychology – The study of human growth and development, behavioral approaches, and the treatment of psychological disorders.
Statistics – The study of data used in nursing to analyze vital signs, adjust medication dosages, and evaluate treatments.
In order to enroll in Mercer's ABSN track, you must have completed the following prerequisite courses (totaling 30 credit hours) with a 3.0 GPA or higher:
Anatomy & Physiology I
Anatomy & Physiology II
Microbiology
Abnormal Psychology/Psychopathology
Statistics
Pathophysiology
Nutrition
Human Growth and Development Across the Lifespan
Religion (may be waived in lieu of another course)
It should also be noted that Mercer University requires nursing students to have completed any science prerequisites within the past five years.
How to Get into Nursing School Without Having Previously Completed Prerequisites
If you have some prerequisite courses remaining, completed some outside of the past five years, or need to boost your GPA in a certain area, you may be curious what this means for your next steps in Mercer's ABSN admissions process.
None of these scenarios means you will be ineligible to apply for admission. Before submitting your application to Mercer's Accelerated BSN track, it is important to speak with an enrollment counselor. They will review your college transcripts and evaluate your overall fit for Mercer's track, as well as make recommendations for how you can best fulfill any outstanding nursing school prerequisite requirements. This could mean taking a few classes online or retaking a class to strengthen your GPA. While it's not required to complete prerequisite courses through Mercer, they are offered in an accessible format through the school.
Your dedicated enrollment counselor will remain in close contact with you throughout the application process. They will check in on your progress and be available to answer any questions you have along the way.
Additional Accelerated Nursing School Requirements
In addition to completing nursing prerequisites, most accelerated nursing tracks have a few other requirements. These may include a minimum cumulative GPA for any previous university-level studies, a specific Test of Essential Academic Skills (TEAS) score, the submission of a résumé and/or essay, CPR certification, etc.
Applicants seeking admission to Mercer's ABSN track must meet the following requirements:
Complete all nursing prerequisites.
Have a 3.0 cumulative GPA (including a 3.0 in all science courses).
Submit a résumé and essay explaining why you want to become a nurse.
Achieve a minimum composite score of 76% on the Test of Essential Academic Skills (TEAS).
Complete the Test of English as a Foreign Language (TOEFL), if applicable.
As with your prerequisites, your enrollment counselor will provide detailed information regarding the track requirements.
Get Started on Your Nursing Career with Mercer's ABSN Track
If you have a non-nursing bachelor's degree and want to change careers to nursing, Mercer's accredited Accelerated Bachelor of Science in Nursing track in Atlanta could be the pathway to get there sooner. Contact us to speak with an enrollment counselor about whether this exciting track is right for you.