The Outlook for Nurses in Georgia
Each blog post is dated and contains accurate information as of that date. Certain information may have changed since the blog post publication date. If you would like to confirm the current accuracy of blog information, please visit our ABSN overview page or contact admissions at (844) 347-2108.
Nurses in Georgia will have plenty of career opportunities, with a thriving healthcare market and plenty of opportunities for placement and advancement. A BSN degree from Mercer University through our ABSN track will prepare you for a successful nursing career.
If you are interested in becoming a nurse in Georgia, you may be curious how nursing works in the state. Georgia currently has a great need for nurses, and the state capital of Atlanta is filled with opportunity as one of the largest healthcare hubs in the nation. Mercer University's Second Degree Accelerated Bachelor of Science in Nursing (ABSN) track, located in Atlanta, builds on Mercer's Georgia Baptist College of Nursing's tradition of excellence and provides a pathway to a BSN degree in as few as 12 months (not including prerequisites).
Below we will explore the state of nursing in Georgia and throughout the U.S., expand on the need for nurses through the current nursing shortage, and share how Mercer's ABSN track can provide a path for qualified applicants to enter the workforce on an accelerated timeline.
Nursing in Georgia: A General Outlook
Georgia as a state provides many opportunities in nursing, from registered nurses to advanced practice nurses and beyond. According to data provided by the Georgia Board of Health Care Workforce (GBHCW), in 2022 there are an estimated 141,117 total actively licensed nurses working in the state. With Georgia's population of 10,617,423, the number of nurses per 100,000 residents is currently at 1,329.
The projected growth rate for nurses in the U.S., according to the U.S. Bureau of Labor Statistics, will be 9% by 2030. The overall nursing workforce is expected to grow by 276,800 nurses during that time, with approximately 194,500 openings anticipated each year for the remainder of the decade. Atlanta itself has approximately 46,320 registered nurses and advanced practice nurses combined, and nurses practicing in the state capital earn a higher wage than the national average for the profession. With many top-quality healthcare organizations throughout the state, Georgia offers plenty of opportunities for those looking to establish their career in the nursing profession.
The Nursing Shortage in Georgia
The healthcare market in Georgia is booming for nurses, and more nurses are needed than ever before to meet healthcare needs while also balancing the number of nurses who retire, leave the state, or leave the profession. As of 2022, the GBHCW estimates that 61,723 nurses in the state are over the age of 50. This represents 43% of the state's total nursing workforce, so an influx of younger nurses is necessary to replace this aging base of workers.
Beyond an aging employee base, nursing numbers must contend with an aging general population in need of more healthcare services than ever. According to the National Academies of Sciences, Engineering, and Medicine's The Future of Nursing 2020-2030 report, over the coming decade, increasing numbers of people will age into their 70s, 80s, 90s, and beyond. In 2030, 73.1 million people (21 percent of the U.S. population) including all baby boomers, will be older than 65. The increased care they will need, as well as the increasing incidence of mental and behavioral health conditions, means that nurses in Georgia and nationwide will continue to be essential to adequately meet this need.
While the outlook of the nursing shortage presents an urgent need for action, it comes with opportunities for those joining the profession. More bargaining power, prospective employers, and career opportunities await those entering the profession now. Below, we will explore how this shortage presents opportunities for new nurses and how Mercer's ABSN track can help connect you with future career options.
Mercer University: A Georgia Leader in Nursing Education
Mercer University's Georgia Baptist College of Nursing is the oldest nursing program in the state of Georgia, with roots going back to 1902, and remains a highly regarded institution. Students interested in exploring their nursing education with a trusted leader should explore Mercer's ABSN track. Building on college credits earned through a previous non-nursing bachelor's degree, this track implements a rigorous curriculum that can be completed in as few as 12 months.
The track has three start dates per year in January, May, and August, and is made up of online-based coursework, in-person skills and simulation labs at our Atlanta, Georgia learning site, and clinical rotations at top healthcare facilities throughout the Metro Atlanta area. Through clinical rotations, students will also have the opportunity to work with experienced preceptors and clinicians. The connections you make during clinicals could be a valuable step toward your first placement after graduating with a BSN degree and passing the National Council Licensure Examination (NCLEX-RN®) to earn your RN licensure.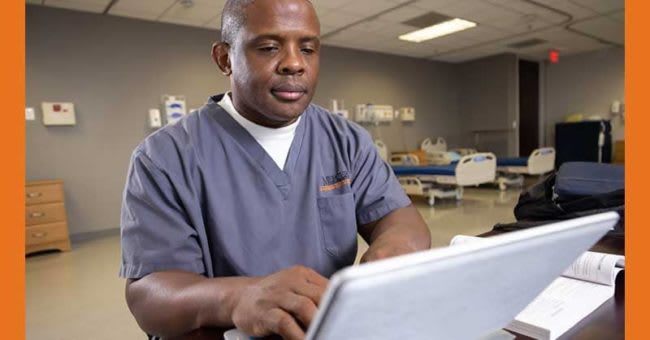 Take the Next Step in Your Nursing Education
If you are interested in joining the ranks of nurses in Georgia, or if you are looking to access a top-quality nursing education on an accelerated timeline, Mercer's ABSN track could be the perfect next step toward an exciting and fulfilling new career. Contact an admissions counselor today and begin to prepare your application. Your future in nursing awaits.