What Is an Accelerated BSN Program and Is It Right for You?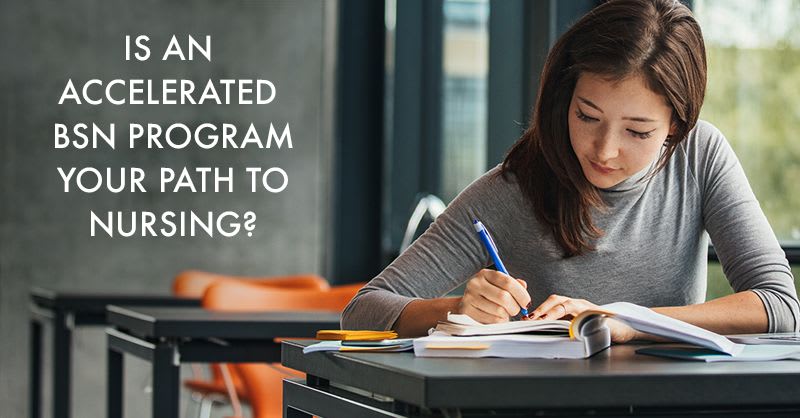 Chances are you have already made up your mind that you want to be a nurse. It is also probably safe to assume you have done your homework about different nursing degrees and have decided that earning a Bachelor of Science in Nursing (BSN) degree is your best path forward.
After all, the healthcare industry, despite facing a shortage of nurses, is competitive. As a result, many top hospitals require new nurses to hold a BSN degree — and some have even set timelines by which current nurses must obtain their BSN. Why? Among other reasons, studies have shown that BSN-educated nurses lead to better patient care outcomes.
So what is an accelerated BSN program, and is one right for you?
Leverage Your Previous Education So You Can Graduate Sooner
Like traditional Bachelor of Science in Nursing degree programs, accelerated BSN (ABSN) programs rigorously prepare you for a rewarding career as a registered nurse — just over a much shorter period of time.
ABSN programs do this is by building on your previous academic experience so that you can focus exclusively on nursing-specific coursework rather than electives and general education courses. Depending on the program, "previous academic experience" could mean a certain number of college credits or a non-nursing bachelor's degree.
Typically, most ABSN programs can be completed in about 16 months, though shorter programs do exist — Mercer University's Accelerated BSN program in Atlanta is one such example. This CCNE-accredited second-degree program makes it possible to earn your nursing degree in as few as 12 months.
There is a caveat, however. Most accelerated nursing programs, Mercer ABSN included, require you to have taken certain prerequisite courses before you can enroll. Usually, these courses apply directly to the field of nursing (for example, anatomy and physiology), though they may also include courses central to a school's core values or mission.
How many prerequisites you will need to take (if any) depends on several factors
The

program requirements

Your previous degree, course history, and GPA
How long ago you took any required courses
However, do not worry if you have not taken all of the prerequisite courses. When you speak with an enrollment counselor, they can review your course history and help you come up with a plan for completing any outstanding prerequisites.
Is an Accelerated BSN Program Right for You?
No doubt you have come across accelerated nursing programs online, but how do you know if an ABSN program is right for you? Here are five questions you should be able to answer when weighing Mercer's Accelerated BSN program in Atlanta.
1. Why do you want to be a nurse?
This might seem like a strange question for determining whether an accelerated BSN program is right for you, but it pays to be absolutely sure before enrolling. Nursing is an incredibly rewarding profession, but it can be physically and emotionally draining at times. If high earning potential and nationwide demand are your only reasons for wanting to be a nurse, you are probably going to burn out quickly.
If, however, you are the kind of person who loves caring for others, enjoys a challenge, and handles stressful situations well, nursing may be a terrific career for you — and one that allows you significant room for personal and professional growth.
2. Do you have the time?
Be honest with yourself about time commitments. Over the course of a year, you will juggle online coursework, independent study, skills and simulation labs, tests and review sessions, and clinical rotations at top area hospitals and healthcare facilities — all of which will occupy a sizable a portion of your time. Mercer ABSN students should plan to devote about 40 to 60 hours each week to their nursing studies.
For example, while we do not recommend working during nursing school, this is doubly true of the Mercer ABSN. And yes, you will likely miss out on family and social events from time to time. Speaking of which, it is a good idea to be up front with friends and loved ones that you will not be as present for a while and that you may need additional help from them during the program, especially if you have children.
3. Do you have a non-nursing bachelor's degree?
Few accelerated nursing programs provide students the opportunity to earn a BSN in as few as 12 months, and from a top university at that. However, there are specific requirements you must meet. In order to be eligible, you must hold a non-nursing bachelor's degree with a cumulative GPA of 3.0 or higher (on a 4.0 scale). This means that every member of your cohort will be returning to school for his or her second degree — something many career changers appreciate.
4. Can you handle the stress of an accelerated program?
Accelerated nursing programs offer career changers an opportunity to become nurses much quicker than traditional programs; however, it is a big mistake to think an ABSN program is somehow easier. Earning a Bachelor of Science in Nursing degree in as few as 12 months takes hard work and dedication. There will be times when you feel stressed and overwhelmed.
5. Are you an organized, self-motivated person?
When talking about accelerated nursing programs, the terms convenience and flexibility come up often. While online coursework does allow you to, say, study at four in the morning or from your favorite local coffee shop, you are responsible for staying on top of assignments, readings, and so on. For this reason, we do not recommend the Mercer ABSN for students who feel they need to physically attend on-campus lectures to keep focused.
Also of critical importance are organizational skills. If you are a disorganized, impulsive type of person, be prepared to make some adjustments. There is a lot to keep track of in nursing school — tests, labs, assignment due dates, clinicals, etc. Most accelerated nursing students swear by their personal calendar, and some even keep multiple calendars just to be sure nothing slips through the cracks.
Earn Your BSN in as Few as 12 Months
Ready to turn your calling into a reality? Talk to an enrollment counselor today to learn more about Mercer University's 12-month Accelerated Bachelor of Science in Nursing program in Atlanta and find out whether it is right for you.