Top Reasons to Become a Nurse Include Career Satisfaction, Job Outlook
Maybe you have always felt called to nursing but, for whatever reason, took a different path. Maybe your inspiration to change careers came more recently after witnessing the flood of poignant images and stories on nightly news broadcasts and social media highlighting the heroic role of nurses on the frontlines of the COVID-19 pandemic. Or perhaps you have always wanted to help people but were unsure of how best to do so while earning a comfortable living.
Whatever your reason to become a nurse, it is likely that you want to make your new and rewarding career a reality as soon as possible. And there is good news on that front…
It may be possible to switch careers to nursing in a lot less time than you think. If you already hold a non-nursing bachelor's degree and meet the program requirements, you can leverage it to earn a Bachelor of Science in Nursing (BSN) degree in as few as 12 months through Mercer University's Accelerated Bachelor of Science in Nursing (ABSN) track.
However, keep in mind that school is challenging, especially when condensed into such a short timeframe, making it essential that the program is a good fit for you.
It is equally important that you are sure nursing is right for you. To help you assuage any concerns, we will be discussing the reasons to become a nurse to help you make an informed decision. In doing so, we will touch on:
Why the demand for nurses is high in many parts of the nation
How the nursing shortage is impacting nursing job outlooks
Why nursing is a good career choice for those looking to make a difference
Why a BSN in nursing is important for your career
The many advancement opportunities for nurses with a BSN
How Mercer ABSN makes it possible to earn a BSN in as little as a year
Why Is There Such High Demand for Nurses?
If you have even the slightest interest in nursing, you likely have heard about the nursing shortage. For years now, advocates, healthcare administrators, policymakers, and even nurses themselves have been sounding the alarm over a looming shortage of skilled nurses.
Despite these urgent warnings and various initiatives aimed at meeting the need, addressing the nursing shortage is complicated to say the least. Two factors are at play: At the same time that Americans are requiring ever-greater levels of care, nursing schools are increasingly unable to enroll enough students to meet the demand.
Americans Are Requiring More and More Healthcare Services
Even with taking the current COVID-19 pandemic out of the equation, the nursing shortage is far from the only crisis facing healthcare.
Among the most pressing issues facing healthcare today are the:
Steady rise in the number of Americans with chronic health conditions
Growing disparities in health outcomes and access
Greater number of people without health insurance
Fact that the population is living longer than ever
From big cities, like Atlanta, to small, rural communities, more than ever before, Americans are living with chronic health conditions. These range from Alzheimer's disease, diabetes, and obesity to heart disease and cancer — the two leading causes of death in the United States, respectively.
Nearly half of all people in the U.S. have at least one chronic disease, and around 25% have at least two chronic conditions, according to the Centers for Disease Control and Prevention. For older Americans, the numbers are even more staggering, with more than half suffering from three or more chronic conditions.
Further complicating this troubling rise in chronic conditions is the fact that Americans are now living, on average, 78.6 years. And while a high life expectancy is something to be celebrated, we must also anticipate the challenges this will bring.
Consider the following: In 2018, there were 52 million Americans ages 65 and older. The U.S. Census Bureau projects that the number of Americans ages 65 and older will reach 95 million by 2060. That means the number of people ages 65 and older — as well as those with at least three chronic diseases — will nearly double over a 39-year period.
Clearly, the need for healthcare professionals and nurses, in particular, is great, especially when you consider the statistics.
Nursing Schools Have Been Unable to Meet the Demand for Nurses
Today, a little over half of the RN workforce is at least 50 years of age. This is according to the American Association of Colleges of Nursing (AACN), which has been studying the nursing shortage and its causes for years.
That more than 50% of the nursing workforce will move into retirement by 2033 is unsettling. Equally concerning is how many qualified nursing school applicants are turned away each year due to an insufficient number of nursing school seats. Citing the AACN again, 80,407 qualified baccalaureate and graduate nursing program applicants were rejected in 2019 alone, which is especially concerning when you consider the nursing job outlook. The Bureau of Labor Statistics estimates there will be around 194,500 registered nurse openings each year between 2020 and 2030 — more than twice the number of qualified applicants turned away in a given year!
The demand for nurses is high. Unfortunately, admitting more students requires more classroom space, additional clinical spots, and more faculty and staff, namely nurse educators — many of whom enjoy higher pay at the bedside thanks to the demand. This presents a considerable challenge.
Enter accelerated nursing tracks, like Mercer's Accelerated BSN track in Atlanta.
Addressing the Nursing Shortage with Accelerated Nursing Education
Our accelerated nursing track is able to enroll a greater number of students while offering three start dates per year — in spring, summer, and fall. Considering the many roadblocks facing nursing schools, you are right to wonder how our ABSN track is able to get around this.
Not only is Mercer University's ABSN track is able to offer students three chances to begin their nursing education each year is already impressive; it gives non-nursing degree holders the opportunity to earn a BSN in as few as 12 months. (Later, we will get to why a BSN degree is important in nursing.)
The key to this is your previous education. Rather than needing to start back at square one — calling into question all of the hard work you applied to earning your prior degree — Mercer's ABSN track allows you to build on your first degree.
Effectively, the first two years of a traditional, four-year Bachelor of Science in Nursing program consists of completing general education and prerequisite coursework. What an Accelerated BSN track does is begin with the nursing-specific coursework by allowing your previous coursework to count for your pre-nursing studies. (Of course, depending on your previous coursework, you may need to take some or all of the required prerequisite courses.)
To help you understand how Mercer's ABSN track makes it possible to complete two years of coursework in as few as 12 months, we need to take a closer look at how our second-degree BSN track works.
How Mercer's Accelerated BSN Track Works
Mercer's 12-month Accelerated BSN track offers a blended approach to nursing education, consisting of three components.
Online Coursework
Our innovative online coursework gives learners the opportunity to "attend class" when and where it is convenient. However, the ability to study any time of day, at your favorite coffee shop or outside on your patio, is far from the only benefit.
If you have never experienced online learning before, you may have a negative opinion, likely influenced by accounts of coursework that was rushed from the classroom to online. It is important to note that the online coursework component of our ABSN track was always intended to be consumed via our online learning management system (LMS).
When you log in to our LMS, you will find all of your assignments for the week (and semester), interactive learning modules, discussion forums, and a wealth of activities designed to accommodate different learning preferences, such as videos, case studies, and more.
By engaging in regular class discussions, virtual review sessions, and group projects, you will never feel isolated in your online nursing education. Not only that, our LMS even features a built-in chat function that allows you to contact your classmates and instructors with ease. Additionally, you can always reach out to your instructors via email, phone, in-person office hours at our ABSN learning site in Atlanta, and even text.
Hands-On Nursing Labs
In many fields, theoretical knowledge is all you need to start your career. Not nursing. To become a nurse, it is essential that you get hands-on practice applying essential skills and developing clinical acumen. To prepare you for clinicals and, eventually, professional practice, our ABSN track includes a variety of skills and simulation lab experiences.
Skills Lab
Utilizing clinical task trainers, high-tech medical manikins, and the same advanced medical technology you will find in a hospital, skills lab is just as it sounds — a place to learn and master your nursing skills. These include:
Basic hygiene practices
Conducting head-to-toe nursing assessments
Cleaning and dressing wounds
Checking vital signs
Inserting IVs and catheters
Safely moving patients
Additionally, outside of formal skills lab sessions, we offer open lab hours so that you can come in and practice individually or with members of your cohort. So be sure to take advantage of these opportunities.
Of course, applying a basic nursing skill in isolation is one thing; applying your newfound knowledge and skills during a bona fide medical emergency is another thing altogether. A simulation lab exists to prepare you for the unpredictable.
Simulation Lab
During these simulated scenarios, you will interact with a "patient" directly to provide the care he or she needs; only the patient is a lifelike medical manikin simulator. Meanwhile, your clinical instructor controls the patient's every move, reaction, and communication with you.
In one scenario, you might find yourself treating a patient for something unrelated when all of a sudden, he or she goes into cardiac arrest. In another, your patient may provide you with incorrect medical information, resulting in you providing a medication that leads to an adverse reaction.
Following each scenario, you and your lab group will watch each filmed scenario and debrief, allowing your group to learn from and correct any mistakes. These sessions further benefit you by allowing your lab instructor to determine where your group needs additional help, helping to provide a learning experience tailored for your success.
Clinical Rotations
Simulated learning is great. Not only does it ensure you gain experience with situations you may not encounter during your particular clinical sessions; it gives you a front-row seat to life as a practicing registered nurse. However, there is no substitute for real-life clinical nursing experience.
Because of Mercer's three-semester ABSN curriculum, you will begin attending clinicals your very first semester, beginning with the Fundamentals of Nursing Care. Initially, you will play a mostly observational role; however, as your coursework progresses, so too will your role in clinicals evolve. By your final semester, you will be the one providing the care while an RN or your clinical instructor looks on.
As part of our Accelerated BSN, you will attend clinicals at top healthcare centers across the greater metropolitan Atlanta area. This ensures you become familiar with a variety of nursing practice settings, including adult health, intensive care, and medical-surgical, among others.
It is also important to remember that every clinical placement presents you with the opportunity to network with other healthcare professionals. Take advantage of this and wear the Mercer University Georgia Baptist College of Nursing emblem on your scrubs with pride. As students of the oldest nursing program in the state, Mercer nurses have a reputation to uphold.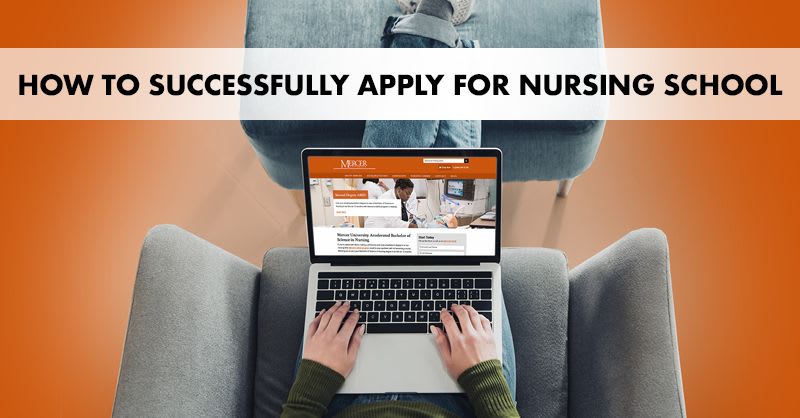 Why a BSN in Nursing Is Important
Like anyone who wants to be a nurse, you are unquestionably seeking meaningful work that genuinely touches lives. Altruism aside, though, it is important that you consider your employment options and, thus, the path you take to becoming an RN.
Healthcare is in a constant state of flux. The technology changes. The science behind treatment changes. And as mentioned earlier, the needs of patients change.
All of this makes for an increasingly complex health system, requiring a highly educated nursing workforce. And that is something hospital administrators, medical staff, HR departments, and even marketing teams are keenly aware of.
They know that more BSN-educated nurses means higher patient satisfaction scores, lower patient mortality rates, higher Medicare reimbursement rates (based on the provision of better care), and better rankings overall.
In fact, the much-coveted Magnet® designation for hospitals hinges on how many RNs hold a Bachelor of Science in Nursing degree. Additionally, for Magnet status, all nurse managers must hold a BSN. But this small percentage of hospitals are not alone in favoring BSN-educated nurses.
BSN Degrees and the Nursing Job Outlook
Across the country, including here in Georgia, healthcare providers are placing emphasis on hiring RNs with BSN degrees. Many are even requiring nurses with Associate Degrees of Nursing (ADNs) to go back to school to earn BSN degrees.
However, this trend toward BSN degrees is nothing new. Nor was it new when the Institute of Medicine (IOM) unveiled The Future of Nursing: Leading Change, Advancing Health, in 2010 — though it certainly brought renewed attention to the issue. In the IOM's landmark report were myriad recommendations for improving the quality of care, most notable of which was the 80% BSN by 2020 initiative. As it sounds, the aim of this push was for a RN workforce predominantly consisting of BSN-educated nurses within the proceeding decade. And while this ambitious goal remains unmet, it is a clear sign of things to come.
It is also the culmination of years of research and considerable lobbying on behalf of patients. In fact, as far back as 1965, the American Nurses Association declared a baccalaureate degree in nursing the minimum educational requirement.
And in an age of patient satisfaction surveys, Medicare reimbursements tied to metrics such as preventing patient falls, and rising levels of chronic health conditions, it is only a matter of time before the BSN degree — the gold standard for nursing education — becomes the de facto requirement to work in the field.
Fortunately, the percentage of nursing students working toward a BSN degree is increasing every year — no doubt in response to the growing number of jobs requiring a bachelor's degree in nursing. So it would make sense that if you wish to be able to grow in your career, you should start your nursing career with a BSN.
Advancement Opportunities for Nurses with BSN Degrees
Sure, a Bachelor of Science in Nursing degree allows you to pursue opportunities in management and leadership positions, but it is also your ticket to a number of advanced practice registered nurse (APRN) roles.
By returning to school to earn a Master of Science in Nursing (MSN) — which you can do through Mercer University — you will become eligible for additional nurse leader roles, as well as to help teach the next generation of nurses as a clinical or nurse educator. That is not all, though.
With an MSN degree, you can pursue APRN certification in a number of high-demand, high-paying nursing careers, including:
Clinical nurse specialist
Nurse anesthetist
Nurse midwife
Nurse practitioner
Clearly, a career in nursing can take many directions, but one thing is clear: It all starts with a BSN.
Recapping the Reasons to Become a Nurse with a BSN Degree
If you are looking for a career that allows you to make a difference while providing job security, nursing could be a perfect fit.
Here are five reasons to become a BSN-educated nurse:
1. Nurses Make a Big Impact
Few professions offer the chance to make such a profound difference every day. Quite literally, nurses are there to comfort and care for us at every stage of our lives. No wonder nurses are consistently ranked as the most trusted professionals in the U.S. year after year.
2. Nursing Offers Variety
As a nurse, no two days are the same, making it an exciting line of work. Additionally, the variety of practice and employment settings means you don't have to stay in one area your entire career. Plus, unlike many professions, nurses can easily find both full-time and part-time opportunities, as well as work all different shifts.
3. Nursing Pays Wells
Given the growing demand for nurses, it is no surprise the nursing job outlook is so good. While it varies by location, RNs in the U.S. earn an average mean annual wage of $80,010. And while few data sources separate BSN nursing salary vs. ADN nursing salary, the additional opportunities available to baccalaureate-educated RNs make it clear that they will enjoy greater career opportunities over time, even if they both start out earning the same.
4. Nursing Offers Many Opportunities for Growth
As an RN with a BSN degree, you have plenty of opportunities to advance your career, whether becoming a charge nurse or manager, joining a committee, or going back to school to obtain advanced practice certification.
5. A Rewarding Career May Be Closer Than You Think
If you already hold a non-nursing bachelor's degree, it may be possible to earn a BSN degree in as few as 12 months, thanks to the Mercer University Accelerated BSN track.
Start Your Nursing Journey with Mercer ABSN
Nurses — especially those who hold BSN degrees — are needed now more than ever. The complexity of our healthcare system, increasing prevalence of chronic conditions, and aging population all require nurses whose knowledge extends beyond the essentials of nursing practice. Increasingly, nurses are called upon to educate and advocate for patients, to collaborate with multi-disciplinary care teams, and to treat patients mentally and physically.
With Mercer's second-degree ABSN track, you can leverage your previous non-nursing bachelor's degree to graduate in as few as 12 months — ready to take the NCLEX and begin professional practice. Take the first step to a rewarding new career today. Fill out the form to have an enrollment counselor contact you, and find out if Mercer's Accelerated BSN track is right for you.